A first critique of many for Manuel Irigoyen.
I'll start by saying I like the idea. A tree/girl looking up and holding a bird. It's interesting and there are lots of cool ways to visually depict such a subject. I think you did fine on the central figure. Her face has a traditional-esque look to it, and she's feminine without being trashy. The shading is pretty good, and the tattoo on a whole isn't too dark or too light. You don't have a lot of midtones, but that may be just a style choice to up the contrast.
The thing though that I see here I see often when people draw or tattoo trees: the roots and branches are over simplified and tentacle-like. Now this can be a deliberate choice of abstraction used to soften the tree's appearance or to create a more smoothly curved, flowing, dynamic shape. A good example about the curves I am talking about are the shapes of Japanese dragons, which are designed to promote a flowing dynamic composition. And this tattoo is about half-way there. There are some definite curves and shapes you used here, but they don't really flow quite enough. And the tree itself isn't realistic enough to be realism, so you have an awkward middle ground.
As for it being not quite realistic, well, that's probably for the best actually. I love realism in tattoos, but roots and tree branches are notorious messes and I fear that they would over the aging process turn into a blurred mass of spaghetti.A tree with leaves on it would be okay because leaves don't need negative space in order to be recognized as leaves, so any blurring or fading would not leave the viewer unable to tell it is a tree.
Here are some pictures of dicot root systems: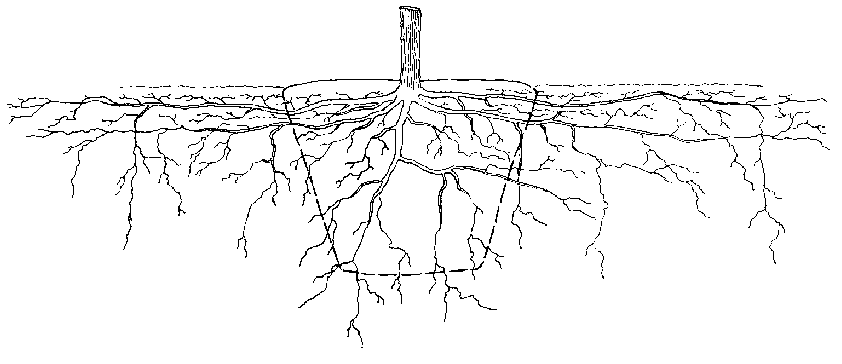 And some pictures of bare trees as a reference to what branches look like:
What might be best is if in the future you still incorporate some of the finer branches and tertiary roots (without making the composition messy), so that at least you don't have overly thick tentacles instead of root systems or branches.